"The Beginning" –An Original People Story and Connection to Spiritual Intelligence.
"Beginning Ceremoy"
On Sunday February 23rd at 10am an ancient ceremony and story will be shared at the sanctuary… Only shared at Ma-Yothu Sanctuary once before, we now offer to share it with those who wish to become spiritually connected to this land and place… Please take the opportunity to attend this as i may only share this ceremony and story on a limited basis. The story and ceremony were given to me by my Uncle Bill, a not black or white original person of Tasmania. His mother gave him the story and ceremony, her  mother gave it to her and so it continued into the distant past. The Tasmanian story has not been shared with many people for a very long time in language that is respectful of its source.. He shared and gave me this torch of hope to carry, in the last years of his life. The full story and ceremony of how his people connected to Mother Earth, Father Spirit and Their Ancestors. It is the foundation of building Spiritual Intelligence, something that has been understated or gone missing from this world, when it could be its long term saviour. Once people have heard the story and experienced the deeper understandings of the ceremony they may see that this life time is not all about this generation.
The event, "The Beginning" will be limited in numbers as the space commands and will be held in the meditation centre and by the Ancestors pond on the land. "The Beginning" ceremony is to be carried out using a pure water source that can be returned to the land upon release. This sacred ceremony comes from the distant past and presents a deep awareness of nature. Some believe it was from this original ceremony that a number of religious orders devised different forms of "Baptisim" to suit their beliefs as time passed. "The Beginning" ceremony story comes from the truths and experiences that cannot be divided…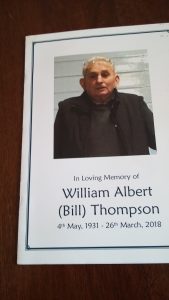 Ancestors Pond on a Smoky Day                                                Uncle Bill                                            Ma-Yothu Sanctuary Torri
There are a number of similar ceremonies still practiced on the mainland of Australia in other original people communities and I  respect their wishes to share or not share their own stories. After my uncle told me his story I searched for other communities who are still carrying out these ceremonies and was lucky to attend a water ceremony in Sept.2019 at the Daly River in Northern Territory with Miriam Rose Ungunmerr and her lovely family, friends and relatives. Though different in a number of ways its principals are similar and it helped to convince me of the age of the story as Tasmania has been parted from the mainland since approx. 6000BC.
Attendance is by donation and all proceeds go towards the up-keep and further enhancement of Ma-Yothu Sanctuary and the Miriam Rose Foundation. The time required is variable upon numbers(Limited) but normally 1-1.5hrs.
Future dates for attending this story and Ceremony: Bookings required to attend.
March Sunday 22nd. 10am. – Cancelled due to unforseen circumstances…